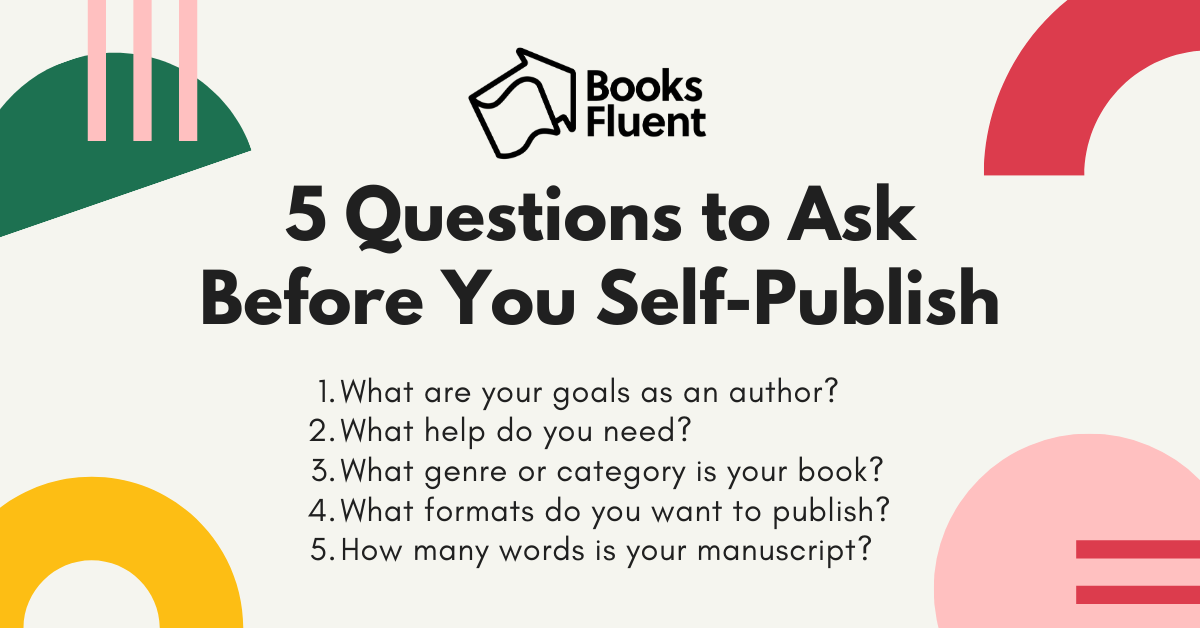 04 Aug

Five Questions to Consider Before You Self-Publish Your Book

What are your goals as an author?

When you are self-publishing, you are the author of not just your book but also your book's journey. You have the opportunity (and the burden) to determine your goals and objectives. It is key to have realistic ideas about success in mind. That way, the team of people working to help create your book can also help meet your goals. Your voice is valuable, and we're listening.

Take a moment to consider these points:
What does success look like for you?
What milestones or achievements would be the most satisfying for you?
What are the resources you can dedicate to developing your book and your career as an author?
How many books are planning to produce over the next 3- 5 years?
At Books Fluent, we start every author consultation with a discussion of goals. We are your partner helping to create successful books — however, that looks for you. We're also here to give you honest feedback and input on what's possible for your book and the current marketplace.
2. What help do you need?
The art of publishing books is complicated and sometimes confusing for independent authors. At Books Fluent, we are all about making things easier to navigate and more transparent.
As an author, you have a valuable set of skills, talents, and tools (in addition to writing of course!) Before you start building a publishing team, think about where you need some assistance. Is it in shaping your book's structure with a developmental edit or double-checking for errors with a final proofread?
Start with a list of the resources you have available. Do you have connections to media outlets or a strong social media following? Are you an experienced designer or versed in the world of eCommerce? Next, make a list of the areas where you think you'll need help.
At Books Fluent, we help authors in three key areas: Editing, Design, and Publication. Each area is key to publishing success.
3. What genre or category is your book?
Before you publish, it helps to understand how your book fits into the broader marketplace. A quick research tool is Amazon Categories. Let's say you've written a fantasy novel that features dragons. There are hundreds of new books published in the Science Fiction & Fantasy category. You'll need to dig deeper and add more specific keywords. For example, Dragons & Mythical Creatures Fantasy (Books). Look for an e-category that matches the content, tone, and audience of your manuscript. Once you've identified an Amazon Category, you can look for trends that define these related books. Traditional publishers use cover artwork, book descriptions, and titles to guide readers to books they will enjoy. Your self-published book should do the same.
Books Fluent has years of experience choosing specific marketplace categories for books. We asked our Publishing Director Stephanie Koehler about genre:
"Bookstores and libraries have ways of using genre categories to organize books. Often, the best and easiest thing an independent author can do is identify their place on a bookshelf."
4. What formats do you want to publish?
Do books come in formats? Yes, just like in music, the book industry has various digital and analog formats. Unlike music, and say the 8-track player, book formats rarely go out of style. The printed book is one of humanity's most enduring technologies. Your book will be in good company!
Paperback and ebook are the most common mediums for self-publishing authors. You have the option to publish only a digital ebook and save on per unit printing costs. For others, the feel of a physical book is a must-have, and there are many affordable options for printing and distributing printed books. Print-on-demand, or POD, technologies allow independent authors to make their books available for purchase without managing inventory. For authors who can manage fulfillment and ship orders to customers, offset printing delivers a lower per-unit cost and more customization.
Other format options include hardback books or the increasingly popular audiobook. At Books Fluent, we build a comprehensive publishing plan for every client, including considering formats and costs.
5. How many words is your manuscript?
This question may seem a bit mundane, but it is so important. Services like copy editing and proofreading are often based on a manuscript's word count. Your word count will also determine the number of pages in your book, the best trim size, and the cost per printed book.
It can be hard to know how long your book should be. At a traditional publisher, debut authors may be encouraged to keep their books under 100,000 words. It is up to you, of course, but here are guidelines to keep in mind when finalizing a manuscript.
Are you ready to start your publishing journey? Get a free quote for editing, design and publishing services.